PRAGUE AIRPORT (PRG) INFORMATION
Origin
Airline
Flight no.
Scheduled
Est./Actual
Status
No flight arrivals were found at Prague Airport.
Destination
Airline
Flight no.
Scheduled
Est./Actual
Status
No flight departures were found at Prague Airport.
Car Hire at Prague Airport
UNBEATABLE VALUE CAR RENTAL
Free Amendments | Free Cancellations | No Card Fees




Prague Airport - All Information on Prague Airport (PRG) Prague Airport
Aviatická, 161 00 Praha 6, Czechia
phone +420 220 111 888
phone+420 220 111 888 (Lost + Found)
Facts and History about Prague Airport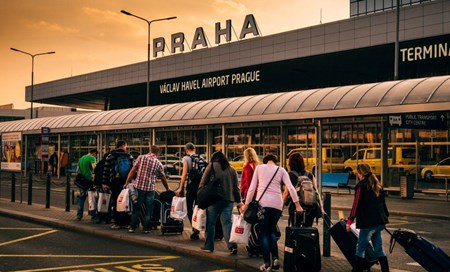 Prague Airport, which has the airport code PRG, was built in 1937 to replace the Kbely Airport. It had significant renovations and expansions in 1956, 1968, 1997, and 2006.
It is 12 kilometers to the west of the city center of Prague and 12 kilometers to the southeast of the town of Kladno. It is adjacent to the village of Kneves and on the edge of the Prague-Ruzyne area.
In addition to its two primary passenger terminals, Prague Airport also features two terminals for general aviation and a freight facility. Most flights depart from the North Terminals at Prague Airport (Terminals 1 and 2).
The South Terminals (Terminals 3 and 4) are responsible for handling a select number of irregular, VIP, special, and aircraft with limited passenger capacity.
Terminal 1 served its first passengers in 1968 and underwent a significant renovation in 1997; it is currently utilized for flights to destinations outside of the Schengen Area. It encompasses both the A and B concourses.
Terminal 2, which opened its doors on January 17, 2006, is the one that passengers flying within the Schengen area utilize. It contains concourses C and D.
Terminal 3 has been a destination for private and charter flights since 1997.
Terminal 4, the airport's oldest building, is the only one that welcomes VIP passengers and heads of state. It first opened its doors on April 5, 1937.
In addition to that, there are two freight terminals. Both Menzies Aviation Czech and Skyport make use of Cargo Terminal 2. However, Menzies Aviation Czech is the operator of Cargo Terminal 1. Both of the airport's runways are now open for use.
Frequent stops are made at both Terminal 1 and Terminal 2 by the buses. Terminal 1 can be reached from Praha's central station via the public bus service known as AE - AirportExpress, which Czech Railways operates.
There are also regular buses to Kladno that leave from the bus station in front of Terminal 1. The intercity buses go between Karlovy Vary and Cheb at 30–60 minutes intervals.
There are proposals to establish a rail link between the airport and the city. It is anticipated that the primary construction will begin somewhere around the year 2023.
History of Prague Airport
Although Prague Airfield didn't begin commercial service until April 1937, the history of Czechoslovak civil aviation can be traced back to 1919 at the Prague–Kbely military airport. The Prague Aviation Museum has relocated to the Kbely Airport in recent years.
After determining that Kbely Airport had insufficient capacity by the middle of the 1930s, the government decided to construct a new state civil airport in Ruzyne. The Diploma and Gold Medal awarded to Prague Ruzyne Airport in 1937 was one of the most prestigious accolades the airport has ever received.
The technical conception of the main airport, which architect Adolf Ben principally conceived, was developed at the International Art and Technical Exhibition in Paris, widely known as the Paris 1937 World's Fair.
In August 1968, the airport was taken over by Soviet paratroopers. These Soviet paratroopers then aided the landing of Soviet troops and transports in preparation for the invasion of Czechoslovakia.
In addition, the Ruzyne fields present possibilities for additional airport expansion in response to the rising need for capacity. The airport is a node in the trans-European airport network and serves in this capacity.
The history of Prague–Ruzyne Airport has been profoundly impacted by both political and economic shifts throughout its seventy years of operation. There have been some new air transportation firms and organizations established. In contrast, some have gone out of business and halted operations.
Ten organizations have been responsible for the airport's management throughout its history, including new construction and development. Before considerable modernization of Prague Airport began in the 1990s, there were two or three decades of gaps before the airport started to match the current capacity requirements. These gaps began in the 1960s.
About Prague, Czech Republic
Historic Bohemia's capital, modern-day Prague, is the largest city in the Czech Republic. Prague is home to more than one million people on the banks of the Vltava river.
The city enjoys a climate that is classified as temperate oceanic, with summers that are mild and cold winters.
A city in central Europe that serves as a political, cultural, and economic powerhouse, Prague has a long history. It features Romanesque, Gothic, Renaissance, and Baroque architecture. It was home to multiple Holy Roman Emperors, the most notable of whom was Charles IV.
The Habsburg monarchy and the Austro-Hungarian Empire considered it a significant city. The town was crucial in the Bohemian Reformation, the Protestant Reformation, the Thirty Years' War, and the history of the 20th century as the capital of Czechoslovakia between the two World Wars and throughout the post-war Communist era.
Prague is home to many famous cultural landmarks, many of which made it through the bloodshed and devastation that characterized Europe in the 20th century.
The Prague Castle, the Charles Bridge, Old Town Square with the Prague astronomical clock, the Jewish Quarter, Petn hill, and Vyehrad are some of Prague's most popular tourist destinations. The old city core of Prague has been recognized by UNESCO as a World Heritage Site since the organization first compiled such a list in 1992.
Prague is home to more than 10 significant museums and many theaters, art galleries, movie theaters, and other historical displays. The town is connected by a sophisticated and broad network of public transit. It is home to many governmental and private educational institutions, the most prestigious of which is Charles University in Prague, which holds the title of the oldest university in Central Europe.
According to Mercer's rankings, the city is the 69th most livable worldwide in 2019. The PICSA Index placed the city at number 13 on its list of the most livable cities in the world that same year.
Because of its long and illustrious history, it is a popular site for tourists. As of 2017, the city hosts more than 8.5 million tourists from other countries annually. Following London, Paris, Rome, and Istanbul as Europe's cities with the most international tourists in 2017, Prague was ranked as the fifth most visited city in Europe.
Weather in Prague, Czech Republic
In Prague, the summers are mild and pleasant, the winters are bitterly cold, snowy, and windy, and the sky is typically overcast throughout the year. The temperature rarely drops below 11 degrees Fahrenheit or climbs over 88 degrees Fahrenheit throughout the year. Still, it regularly ranges from 26 degrees to 77 degrees.
Between the middle of June and the beginning of September is the time of year when warm-weather activities in Prague are at their peak.
The warm season begins on May 29 and continues until September 9, with an average daily high temperature above 68 degrees Fahrenheit. July is the hottest, with a temperature of 75 degrees Fahrenheit.
The cold season begins on November 17 and continues until March 5. The average daily high temperature is lower than 44 degrees Fahrenheit. January is the month with the coldest average temperatures in Prague, with lows of 27 degrees Fahrenheit and highs of 36 degrees Fahrenheit.
The likelihood of rainy days throughout the year in Prague varies significantly. There is a larger than 25% probability of precipitation falling on any given day during the wetter season, which begins on May 6 and continues until September 6.
June is often the wettest month in Prague, with an average of roughly 10 days that get at least 1 millimeter of precipitation during that month. The dry season lasts eight months, starting on September 6 and ending on May 6. February is the month in Prague that sees the fewest days, with at least 0.10 centimeters of precipitation on average. This occurs during the month.
When referring to days with precipitation, we differentiate between those that just have rain, those that only have snow, and those with rain and snow. Throughout June, Prague experiences more rainfall than any other month.
When the dew point is lower, the air feels dryer, and the air feels more humid when it's higher. Even though the temperature may drop at night, a sweltering day is generally followed by a muggy night because the dew point tends to vary more slowly than the temperature does, which means that even if the temperature may drop at night, a muggy day is typically followed by a muggy night.
Transfer Services at Prague Airport
At Prague Airport, passengers can use various ground transportation options, such as taxis, buses, shuttles, and a connection to the railway station close to Prague's city center. The downtown area may be reached by taxi in around half an hour, and the service is accessible around the clock.
The central business district may be reached by bus in around half an hour, and the service is accessible around the clock. The bus connecting to the train station is only available during daylight hours, and it will take approximately twenty minutes to reach the heart of the city.
Rental Car Services at Prague Airport
At Prague Airport, you may choose from a diverse range of rental car options, regardless of whether you are coming or departing the airport. Given the sheer number of possibilities, it might be challenging to determine how to get started. Consider the following information when making your choice:
Check out the prices offered by several different companies. It is possible for there to be a considerable variation in pricing, particularly if you book in advance.
Think about the kind of vehicle that would best suit your needs. You might want a more spacious car when traveling with a large group, such as your family or friends. If you are just going to be driving around the city, you could find that a more compact vehicle is more convenient.
Inquire about optional extras such as child safety seats and GPS navigation systems. The rental price may, on occasion, already contain these; however, this is not usually the case.
If you follow these guidelines, you can choose a rental vehicle service at Prague Airport that is well suited to your requirements. See and compare all rental car companies at Prague Airport.
Rideshare Services at Prague Airport
Ridesharing options are available through the Prague Airport, making it simple and convenient to travel to and from the airport. Because there are many different businesses from which to pick, you should have no trouble finding a service that is tailored to your requirements.
You are guaranteed to obtain the best possible value because ridesharing firms all offer rates that are competitive with one another. Suppose you are unfamiliar with how ridesharing works. In that case, all you need to do to schedule a ride is download the app for the ridesharing provider of your choice.
Taxi Services at Prague Airport
Prague Airport provides a diverse selection of taxi services to ensure that your travel is as relaxing and trouble-free as is humanly feasible. If you require transportation to or from the airport, we will see that you have it. See more information about taxis at Prague Airport.
They provide a selection of automobiles for you to choose from, allowing you to locate the one that is most suited to meet your requirements. When you need transportation, you can always count on us because the taxi services are offered around the clock, seven days a week, so you can get a trip whenever you want.
Train Services at Prague Airport
Train services are accessible from the city center of Prague. You will need to take a bus to the train station if you arrive at the Prague airport.
There are various methods to get to the center of town, but using the bus is the most convenient option. You can catch a train in the city if you take the train from the train station, which the bus will take immediately. More information about train services near Prague Airport.
Bus Services at Prague Airport
Many bus services, both to and from the airport, are offered by Prague Airport. There are public buses, shuttle buses, and private buses included in this category. Between the airport and the city center of Prague, public buses offer the most convenient and cost-effective mode of transportation. More information about buses to and from Prague Airport.
Although more expensive, private buses provide an unobstructed route directly to your destination. People who need to make many trips or have large groups can take advantage of the available shuttle buses.
Hotel Shuttle Services at Prague Airport
Prague Airport provides some shuttle services that can take you to your accommodation. Many businesses offer this service; thus, you should contact your hotel in advance to find out if they have a recommendation for a particular company.
Parking Services at Prague Airport
Prague Airport provides its customers with a wide range of parking alternatives to choose from. Many kinds of parking are available, such as short-term, long-term, and parking accessible to those with disabilities.
It is possible to park for a short time close to the terminals to pick up or drop off passengers. Short-term parking is provided. Those who will be leaving their automobiles at the airport for longer can take advantage of the long-term parking options. See more information about short and long term parking at Prague Airport.
It is situated in a more remote area in comparison to the terminals. Those with mobility impairments can easily access the airport from a parking lot that caters to their needs and is located nearby.
Other Services at Prague Airport
Prague Airport offers a wide range of services for passengers to make their travel experience as smooth and enjoyable as possible.
From check-in and baggage claim to transportation and dining options, the airport staff is dedicated to ensuring that all passengers have everything they need to make their journey a success.
Prague Airport offers a variety of check-in options for passengers, including online, mobile, and self-service check-in kiosks. Baggage claim is available for all passengers.
The airport offers many transportation options to get passengers to their final destination, including buses, taxis, and rental cars.
The airport also offers a variety of dining options for passengers, including various restaurants and shops.
Wi-Fi at Prague Airport
Prague Airport offers Wi-Fi services to passengers who need to stay connected while on the go. The airport has several hotspots that are available for use by passengers. Passengers must connect to the airport's network and enter their credentials to access the Wi-Fi.
ATMs at Prague Airport
There are several ATMs located throughout Prague Airport. These ATMs offer a convenient way to get local currency and other services such as balance inquiries and account transfers.
Currency Exchange at Prague Airport
When traveling, it's always a good idea to have local currency. That way, you can avoid any potential problems with finding a place to exchange your money. When arriving at Prague Airport, there are a few options for exchanging your currency.
There are several banks located in the airport, and most of them will offer currency exchange services. You can also find many ATMs throughout the airport that dispense Czech Korunas.
If you're looking for the best exchange rate, it's generally a good idea to use a bank or ATM.
Nursing Mothers Station at Prague Airport
The station provides a comfortable and private space for mothers to breastfeed or pump and a changing area for babies.
The staff at the station are accommodating and knowledgeable, and they can provide information about local resources and support for nursing mothers.
Restrooms at Prague Airport
The airport staff takes great pride in keeping the restrooms clean and stocked with all the necessary supplies.
They are located in all terminals of the airport, and each one is spacious and well-lit. The stall doors are equipped with automatic sensors that open and close for your convenience.
The airport staff is always available to answer any questions or help with anything you need. They are happy to provide you with directions to the nearest restroom or help you with.
Food and Beverages at Prague Airport
Prague Airport offers a wide variety of food and beverage options for travelers. Several restaurants and cafes are located throughout the airport, as well as several vending machines.
The restaurants and cafes offer various hot and cold food options and a selection of alcoholic and non-alcoholic beverages. There are also several healthy food options available.
The vending machines offer a selection of snacks and drinks, including alcoholic and non-alcoholic options.
Travelers can also purchase food and beverages at the airport's duty-free shops. These shops offer a wide selection of products, including alcoholic drinks, cigarettes, and other items.
Shopping at Prague Airport
When shopping at Prague Airport, a few things must be kept in mind:
The airport is located in the Czech Republic, which uses the Czech Koruna as its currency.
Prague Airport is a large airport with many different shops and restaurants.
The airport is a busy city, so it is vital to be aware of your surroundings.
Smoking at Prague Airport
Smoking at Prague Airport is not permitted in any indoor areas. This includes all restaurants, cafes, and shops. There are designated smoking areas outside, and these are marked.
Lost and Found Section at Prague Airport
Prague Airport has a lost and found section where you can claim lost items. To claim a lost item, you must fill out a form and provide a detailed description of the item. You will also need to provide your contact information.
The lost and found section is open Monday to Friday from 8 am to 5 pm.
Ticketing Services at Prague Airport
Prague Airport offers a variety of ticketing services to its passengers. These services include online ticketing, phone ticketing, and in-person ticketing.
Online ticketing is available through the airport's website and allows passengers to purchase and print tickets at home.
Phone ticketing is available by calling the airport's customer service number and speaking with a representative. In-person ticketing is available at the airport's ticket counter.
Information Desk at Prague Airport
The information desk at Prague airport is an excellent resource for travelers. The staff is knowledgeable and can help with any questions you may have. They can also provide directions and maps of the city.
Pet Relief at Prague Airport
Prague Airport offers pet relief services for those traveling with pets. There are designated areas for pet relief, and these areas are equipped with waste bags and disposal bins. Travelers should be aware of the airport's pet relief policies before arrival.
Baggage Claim at Prague Airport
Prague Airport has a very efficient baggage claim system. The system is designed so passengers can quickly and easily retrieve their luggage. There are a few things that passengers need to know to use the system effectively.
Once passengers have located the correct carousel, they should wait patiently for their luggage to appear. It is important to remember that not all luggage will come out.
Disabled Passengers at Prague Airport
At Prague Airport, disabled passengers are provided with several services to make their travel experience more comfortable and convenient. These services include special assistance from airport staff, wheelchair-accessible toilets, and designated parking areas.
Airport staff is trained to aid disabled passengers in several ways, including helping them to check in and board their flights and providing information about the services and facilities available at the airport.
Wheelchair-accessible toilets are available in all terminal buildings at Prague Airport and are marked with signage. These spacious toilets have grab bars and other features to make them easier for passengers with disabilities.
Designated parking areas for disabled passengers are located in all of the airport's parking.
Useful Contact Details
First-time travelers at Prague Airport may find it helpful to consider a few things before their arrival. By keeping these things in mind, you can help to ensure a smooth and enjoyable.
The airport can be pretty busy, so it is essential to allow plenty of time to get through security and to your gate. It is also good to familiarize yourself with the airport layout. Hence, you know where to find restrooms, restaurants, and duty-free shops.
Also, remember that Prague is in the Central European Time Zone, so be sure to adjust your watch accordingly. Finally, remember that Czech is the official language in Prague, so it may be helpful to learn a few key phrases before your trip.
It is essential to know that the emergency services in Prague are reliable and efficient. You can dial 112 for both police and medical emergencies, and the operators will be able to connect you with the appropriate service.
Hospitals
Address: V Úval 84, 150 06 Prague 5
Phone: (+420) 224 431 111
Email: ops@fnmotol.cz
Address: Viennese 800 Prague 4 – Krč 140 59
Phone: 261 081 111 / 241 721 260
Email: info@ftn.cz
Police
City Police Prague 1 - Old Town Station (Městská policie Praha 1 - Stanice Staré mesto)
Address: Uhelný trh 415/10, 110 00 Staré Město, Czechia
Phone: +420224234860
Coordinates: 50.09474403416348, 14.426124849296484
Prague Airport Contacts
Address: Aviatická, 161 00 Praha 6, Czechia
General Phone: +420 220 111 888
Lost and Found Phone: +420 220 111 888
Information Desk: +420 220 111 888
Official website: https://www.prg.aero/en#/
Local Information
Drive on: Right
Electricity: 230V/50Hz
Plug: C, E
Currency: Czech koruna, Czech crown, Kč, CZK
Wi-Fi at Airport: Free Wi-Fi is available at Prague Airport
Services at Prague Airport
Useful Information about Prague Airport