Prague Airport Departures (PRG)
Not all flights may be showing. If not available use search above to find your flight by airline, airport or flight number.
Destination
Airline
Flight no.
Scheduled
Est./Actual
Status
Malaga (AGP)
Smartwings
QS1152 expand_more(1)
04:30
Scheduled
Malaga (AGP)
Czech Airlines
OK4696
04:30
Scheduled
Milan (BGY)
Ryanair
FR3548
04:30
Scheduled
Munich (MUC)
Lufthansa
LH1693 expand_more(2)
04:35
Scheduled
Munich (MUC)
Oman Air
WY5286
04:35
Scheduled
Munich (MUC)
TAP Air Portugal
TP7943
04:35
Scheduled
Copenhagen (CPH)
Eurowings
EW4210 expand_more(1)
04:40
Scheduled
Copenhagen (CPH)
Smartwings
QS8006
04:40
Scheduled
Vienna (VIE)
Austrian Airlines
OS710 expand_more(2)
04:40
Scheduled
Vienna (VIE)
Croatia Airlines
OU5543
04:40
Scheduled
Vienna (VIE)
Ethiopian Airlines
ET1205
04:40
Scheduled
Athens (ATH)
Aegean Airlines
A3867 expand_more(1)
04:50
Scheduled
Athens (ATH)
Air Baltic
BT5451
04:50
Scheduled
Nosy Be (NOS)
LOT
LO6295
05:55
Scheduled
Warsaw (WAW)
LOT
LO522
06:00
Scheduled
Tel Aviv (TLV)
El Al
LY892
06:00
Scheduled
Paris (CDG)
Air France
AF1083 expand_more(2)
06:20
Scheduled
Paris (CDG)
Air Austral
UU8083
06:20
Scheduled
Paris (CDG)
Etihad Airways
EY5913
06:20
Scheduled
Amsterdam (AMS)
KLM
KL1358 expand_more(2)
06:25
Scheduled
Amsterdam (AMS)
China Airlines
CI9596
06:25
Scheduled
Amsterdam (AMS)
Kenya Airways
KQ1358
06:25
Scheduled
London (LHR)
British Airways
BA857
06:25
Scheduled
Hurghada (HRG)
Air Cairo
SM554 expand_more(1)
06:30
Scheduled
Hurghada (HRG)
Egyptair
MS8225
06:30
Scheduled
Seoul (ICN)
Korean Air
KE970
06:30
Scheduled
Brussels (BRU)
Brussels Airlines
SN2812
06:45
Scheduled
Frankfurt (FRA)
Lufthansa
LH1401 expand_more(3)
06:50
Scheduled
Frankfurt (FRA)
Ethiopian Airlines
ET1614
06:50
Scheduled
Frankfurt (FRA)
Luxair
LG1486
06:50
Scheduled
Frankfurt (FRA)
Singapore Airlines
SQ2083
06:50
Scheduled
Istanbul (IST)
Turkish Airlines
TK1770 expand_more(2)
07:05
Scheduled
Istanbul (IST)
IndiGo
6E4056
07:05
Scheduled
Istanbul (IST)
Uzbekistan Airways
HY7256
07:05
Scheduled
Helsinki (HEL)
Finnair
AY1224
07:35
Scheduled
Warsaw (WAW)
LOT
LO526
07:55
Scheduled
Larnaca (LCA)
Wizz Air
W64600
08:00
Scheduled
No flight departures were found at Prague Airport.
Flight Departures at Prague Airport
Various ground transportation services are available when flying out of Prague Airport. These include taxi, bus, and shuttle services. Each option has advantages and disadvantages, so choosing the one that best suits your needs is essential.
Taxi services are generally the most expensive option but also the most convenient. You can simply hail a taxi from the street or call one in advance, and they will take you directly to your destination. Bus and shuttle services are usually cheaper but may not be as convenient.
You may have to wait in line or walk to a bus stop, and the bus or shuttle may make multiple stops before reaching your destination.
Wi-Fi at Prague Airport
Travelers who wish to maintain their online presence while in transit can use Prague Airport's Wi-Fi facilities. Travelers can take advantage of the airport's great Wi-Fi hotspots. Airport passengers can use their login information to operate the Wi-Fi once connected to the airport's network.
Rental Car Services at Prague Airport
When returning a car rental vehicle at Prague Airport, there are a few things to remember. First, be sure to have all of your belongings out of the car. Second, make sure the car is clean - both inside and out. Third, fill up the gas tank before returning the car. Fourth, be sure to have the rental agreement with you. Finally, follow the instructions of the rental company when returning the car. See all rental car companies at Prague Airport.
Rideshare Services at Prague Airport
Recently, ridesharing services have been gaining traction worldwide, and Prague Airport is no exception to this trend. There are several reasons why ridesharing services are an ideal choice for anyone looking for a means of transportation to and from the airport.
To begin with, their prices are typically significantly more affordable than those of conventional taxi or limousine services. Second, they generally are handier than traditional taxis because you may call for a ride with only a few taps on your mobile device.
If you are thinking about utilizing a rideshare service to get to or from Prague Airport, there are a few things you need to keep in mind before you do so. First, ensure you request your trip plenty of time before you need it, as ridesharing services can get busy.
Taxi Services at Prague Airport
Passengers arriving at or departing from Prague Airport have their choice of several different cab services to choose from. There are several taxi companies at the airport, and passengers can select the one that best meets their requirements. Additionally, several apps are available for passengers to pre-book a cab. More information about taxis at Prague Airport.
Train Services at Prague Airport
The train stations serving the Prague Airport are close to the city center. Travelers interested in seeing the city will find it much easier to do so. The trains are dependable and provide a very comfortable ride. Additional information about train services near Prague Airport.
Bus Services at Prague Airport
Several different bus services serve Prague Airport. The Airport Express is the most popular bus service, and it connects the airport to the city's central business district. Several shuttle services can transport passengers from the airport to a variety of hotels as well as other locations throughout the city.
The Airport Express is the most time- and cost-efficient option for traveling between the airport and the central business district of the city. The airport bus departs every half an hour, and the ride to the city center takes around half an hour. The prices for the shuttle services can sometimes be somewhat higher. However, they provide a more direct benefit to particular hotels and other places. Further information about buses to and from Prague Airport.
Hotel Shuttle Services at Prague Airport
The Prague Airport has several hotel shuttle services, which are designed to make traveling to and from your hotel as uncomplicated and hassle-free as is humanly feasible.
You should contact your hotel to inquire about their shuttle service options because multiple shuttle companies operate out of the airport. In that case, there are a plethora of additional choices readily available.
The Prague Airport Express is the most popular shuttle service, and it operates a shuttle that travels between several hotels within the city. Check the schedule ahead of time because The Express offers several times for pick-ups and drop-offs at various times during the day.
Parking Services at Prague Airport
The comprehensive parking services offered at Prague Airport may accommodate both short-term and long-term parking requirements. The airport provides several parking choices, including both on-site and off-site parking, for its customers. See more information about long and short-term parking at Prague Airport.
Other Services at Prague Airport
Prague Airport's many amenities aim to make travelers' time there as comfortable and pleasant as possible.
The airport personnel works hard to ensure travelers have everything they need to enjoy a pleasant and stress-free trip, from a smooth check-in and baggage claim to convenient transportation and delicious food.
Passengers can check in at Prague Airport in several ways, including using the internet, mobile devices, and automated kiosks. All travelers have access to baggage claim. Travelers can take a shuttle bus, a cab, or a rental car from the airport to their hotel or other destination.
Travelers can choose from many restaurants and retail outlets within the airport.
ATMs at Prague Airport
Items may be found conveniently placed all over Prague Airport. These automated teller machines (ATMs) make it easy to withdraw local currency. They do other banking transactions, such as checking account balances and making wire transfers.
Currency Exchange at Prague Airport
Bringing some of the local currency is always a good idea when visiting a new country. With this method, you won't have to worry about exchanging your money at an inconvenient time. You have several possibilities if you need to convert some of your travel funds upon arrival in Prague.
You may easily exchange your cash for local currency at one of the airport's many banks. Many automated teller machines (ATMs) are spread out over the airport, and all accept Czech Koruna.
Using a bank or an ATM will usually get you the best conversion rate.
Nursing Mothers Station at Prague Airport
The station has a changing table and a comfy place for nursing mothers to sit and relax. The helpful and well-informed staff at the station can provide details about where to find nearby services and help for nursing mothers.
Restrooms at Prague Airport
It is a priority for airport employees to ensure that the bathrooms are always spotless and fully equipped.
All the airport terminals have them; they're all roomy and brightly lit. Convenient sensors on the doors open and close the stalls automatically.
The airport staff is always willing to assist passengers and provide answers to their questions. Inquire, and they will gladly point you toward a restroom or help you with any other concerns.
Food and Beverages at Prague Airport
Passengers can choose from many restaurants and cafes at Prague Airport. The airport is home to numerous food options, including restaurants, cafes, and vending machines.
A wide variety of hot and cold dishes and alcoholic and non-alcoholic drinks are available in restaurants and cafés. There are also many nutritious dietary choices.
Snacks and drinks, both alcoholic and non-alcoholic, are available at the vending machines.
Airport duty-free stores also sell snacks and drinks to passing passengers. You can get anything from alcoholic beverages to cigarettes and more at these stores.
Shopping at Prague Airport
The terminals of Prague Airport are spacious, and they house a wide variety of retail outlets and dining options.
Smoking at Prague Airport
Inside any building at Prague Airport, smoking is strictly forbidden. This encompasses any and all retail establishments. Specific spaces outside are set aside as smoking areas and are appropriately marked. Passengers can also use one of a small handful of designated smoking areas.
Lost and Found Section at Prague Airport
You can retrieve lost items at Prague Airport's lost & found desk. You need to complete a form and thoroughly describe the missing item to get it back. Additionally, we'll require your contact details. From 8 am to 5 pm, Monday through Friday, you can visit the lost and found.
Ticketing Services at Prague Airport
Passengers can purchase tickets for a choice of airline and departure times at Prague Airport. These options are buying tickets online, over the phone, and at the box office.
Passengers can buy and print their tickets at home by using the airport's website, which offers online ticketing.
You can purchase tickets over the phone by dialing the airport's customer service hotline. The airport has a ticket counter where you can buy your tickets in person.
Information Desk at Prague Airport
To help passengers, the Prague airport has a helpful information desk. Every inquiry you have will be answered by helpful personnel. In addition, they may give you city maps and directions. If you have any questions or concerns, you may always stop by the front desk, as it is staffed around the clock.
Pet Relief at Prague Airport
There are facilities for dogs at the Prague Airport. Places have been set aside with trash bags and cans for when pets need to relieve themselves. Airport pet relief policies should be known in advance by passengers.
Disabled Passengers at Prague Airport
Travelers with disabilities can take advantage of several amenities designed to make their time at Prague Airport more pleasant. Assistance from airport employees, accessible restrooms, and reserved parking spaces are all part of these amenities.
The airport staff is prepared to support disabled travelers in various ways, including assisting them with the check-in and boarding processes and offering information about the airport's services and amenities.
All terminal buildings at Prague Airport have restrooms accessible to people using wheelchairs, and these restrooms are labeled as such. These large stalls are equipped with grab bars and other features to make them more accessible to those with impairments.
All of the airport's parking lots include unique spaces set out for impaired travelers.
Was your flight delayed or cancelled?
You may be eligible to receive up to 600 EUR compensation per person in your party..
Claim Now!
Beat the Queues
Don't stand sweating for 45 mins waiting for Security. Get a fast track and get through in 5 mins or less.
Book now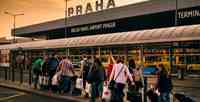 Things to see and do in and around Prague, Czech Republic.